Brian O'Driscoll tiptoes along the touchline in the 58th minute ...

At Lansdowne Road last Sunday Ireland held off a determined onslaught from Andy Robinson's England team to maintain their unbroken streak of wins (Italy, Scotland, now England) and stay on course for their first Grand Slam in 57 years. They are now three-fifths of the way to breaking a jinx that has lasted since 1948, provided they can overcome the French in Dublin on March 12 and beat Wales in Cardiff on March 19. Wales is also off to a brilliant start this season with three wins of its own (England, Italy, France) and this year's Six Nations championship could come to a Celtic Showdown with Ireland on the 19th.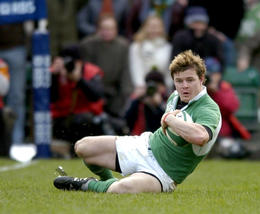 ... and grounds the ball for a try seconds later.

The Irish supporters, who had been on tenterhooks all afternoon, roared out their relief and joy and headed for the pubs and clubs of Dublin -- there to celebrate the victory of the Boys in Green, and perhaps raise a quiet toast of gratitude to the referee, who had disallowed two questionable English tries. The English are still in an uproar over this, but their first try had been pretty shaky as well, when O'Gara had been tackled off the ball. Ah, sure, that's what's called the 'rub of the green': some days you get the decisions; others you don't. The lads played a blinder and they deserved to win.